<![if !vml]>

<![endif]>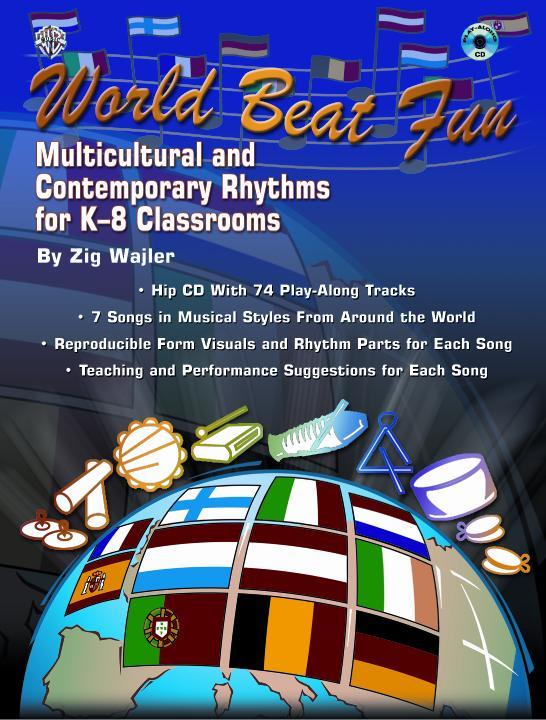 World Beat Fun by Zig Wajler
This interactive multicultural book with CD features various musical styles from around the world. These play-along songs are recorded with and without backing rhythm tracks (drums and percussion). Included are 74 total CD tracks with notation and easy call and response practice exercises. Musical styles include: Asian, Latin, African, Native American, North American Rock & Roll, Middle Eastern, and Nature.
Order online at Amazon.com - http://www.amazon.com
Order online at Borders - http://www.borders.com
Order online at Music K-8 - http://www.musick8.com
Book reviews:
" We have enjoyed 'World Beat Fun' My students love the Desert Theme."
Angela Thomas, Grayesville E.S., GA
" I have been using your book World Beat Fun with my music classes. They love playing along to the CD. The different styles of music from different cultures make it educational and fun." Fredda Burton, Cleveland Schools
" I have been using your book with the 5th-8th grades studying rhythm. They played along with the America Rocks track and absolutely loved it." Floyd Co. Schools
" Zig visited one of my music classes today prior to his program while we were using his book. We were using his lessons on triple meter and the Native American Son. The students love the CD." A. Harris , music teacher
"I can't wait to integrate your new book World Beat Fun (Warner Bros,) into the curriculum - I got a chance to look through it last night & it will be very beneficial in our preparation for the CATS test." - Ceci Prater, Duff Elementary/Allen Central Middle School
" I love the book and will be incorporating the material soon." Donna Lewis, Russell Elementary School.
I have been reviewing the book World Beat Fun today because we have bought copies of the book for all of our music teachers to use in a professional development session later this summer. I like the way that you have included different lines to teach instruments as accompaniment to certain music cultures. You have made it simple for teachers and students alike by giving us a CD with the accompaniment of each instrument playing with you.
We have an audio as well as a visual. The tracks are simple to follow with the number of the CD track at the beginning of each line. Many of the styles of music included in the book are a part of our Core Content and will appear on our CATS test in the spring in some form. The students will be given the opportunity to hear, see and do. Since some students are visual learners, and some are auditory learners this will help us reach more children. This professional development session should be even more effective because it will be a follow-up session to your performance with our students this past school year. Thank you for including the CD which makes this a bargain for both the book and CD. We look forward to having you return to our district in the future!! Sheila Underwood Lincoln County Board of Education, KY

Mr. Zig's Literacy, Music and Technology Connection by Zig Wajler (Alfred Publishing)

"Zig's book, Mr. Zig's Literacy, Music and Technology Connection (Alfred Pub.) will be featured in the article as well as his success with cutting edge teaching that is making a world-of-difference with those involved, and his teaching approach that is a difference maker." School, Band and Orchestra magazine

"Wajler's book succeeds not only in combing technology and arts in the classroom, but also in generating motivation and self-esteem with social skills and cooperative learning. The 'Think, Plan, Assemble, Produce' guidelines are remarkable. Fascinating."

Music Teachers National Association magazine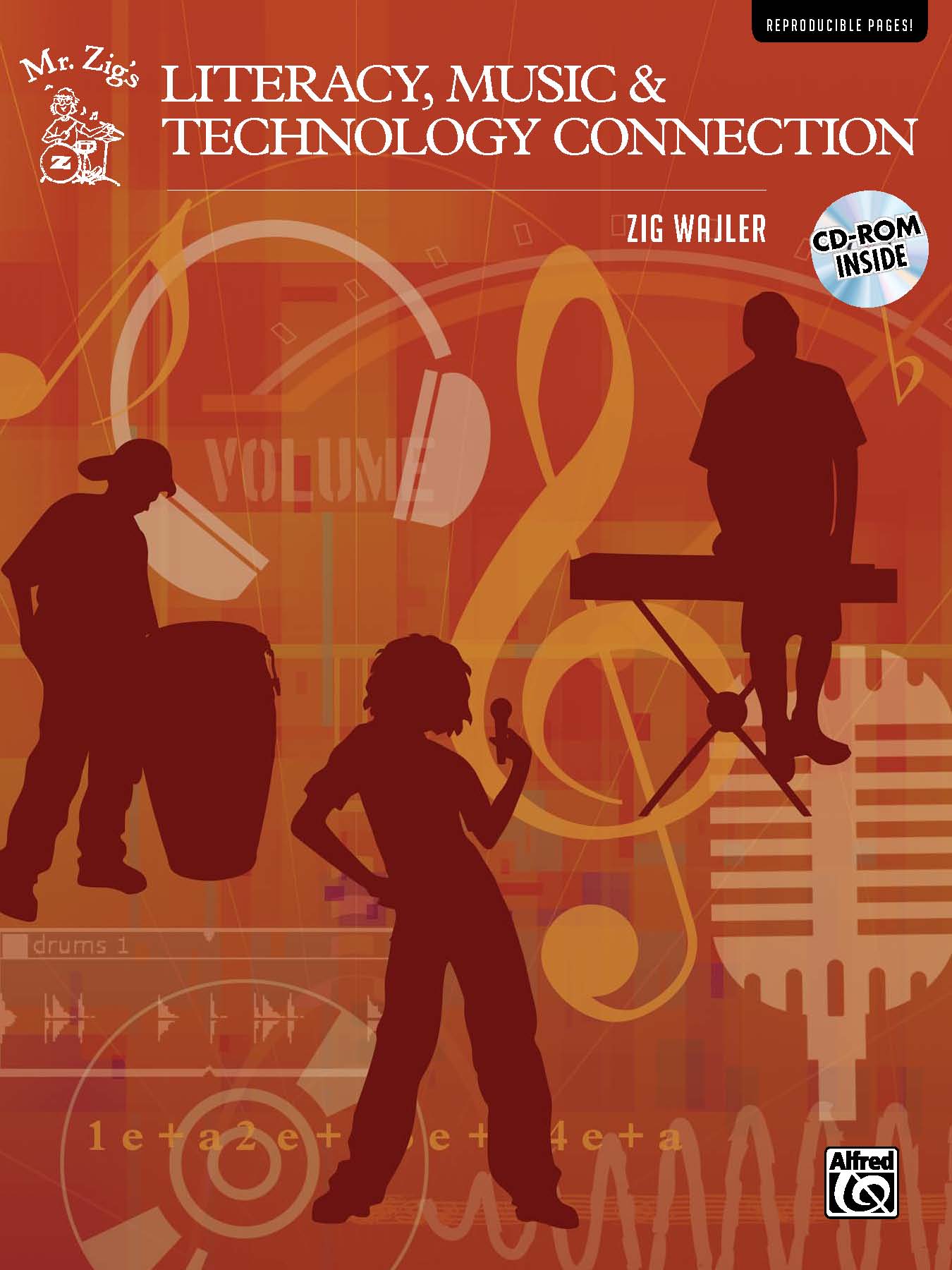 Mr. Zig's Literacy, Music & Technology Connection is an extraordinary teaching tool, creating a unique partnership of words, music, and technology to inspire and motivate students to achieve their teacher's highest learning goals. Easy to use, step-by-step lessons for educators with all levels of technology backgrounds, the lessons are designed for use in K–12 classrooms. The lessons ignite enthusiasm for learning as students and teachers are guided through the process of creating, composing, recording, and producing their own work of art using original words and music.
Content includes:
| | |
| --- | --- |
| | Success Stories of Student Achievements |
| | The Think, Plan, Assemble, and Produce Step-by-Step Lesson Plans |
| | Model Behavior Songs - Listening examples (audio) of what can be accomplished (Songs in various styles, scripts of plays and comedy, jingle/PSA, poetry) |
| | Model Behavior Writing Examples – Literary, Personal/Expressive, Persuasive/Transactive |
| | Reproducible Worksheets for Primary, Intermediate, Middle and High School levels |
| | Technology Basics for loop based software |
| | Voice Recording Techniques and Suggestions |
| | Grade Level Suggestions for Composing Music |
| | Grade Level Suggested Criteria for Writing |
| | Loop Library of 200 individual loops (sounds/instruments), audio examples of student projects |
| | Benefits of this Book |
Order online at Amazon.com - http://www.amazon.com
Order online at Borders - http://www.borders.com

Technology Projects for Creative Students, Powered by ACID™ Music Studio
by Steve Riddle and Zig Wajler
Technology Projects for Creative Students, Powered by ACID™ Music Studio by Zig Wajler and Steve Riddle is a teacher resource book with focus on interactive student driven lessons that integrate music software for the general classroom, enrichment classes and independent studies. The easy to follow step-by-step lessons with cross curricular activities provide an educator with enough content for a semester worth of study, not only for music teachers, but also for teachers interested in infusing technology into their teaching strategies. The goal of the lessons is to connect music, technology, and interdisciplinary subjects by expanding student thinking, learning, creativity, and communication. 111 pages.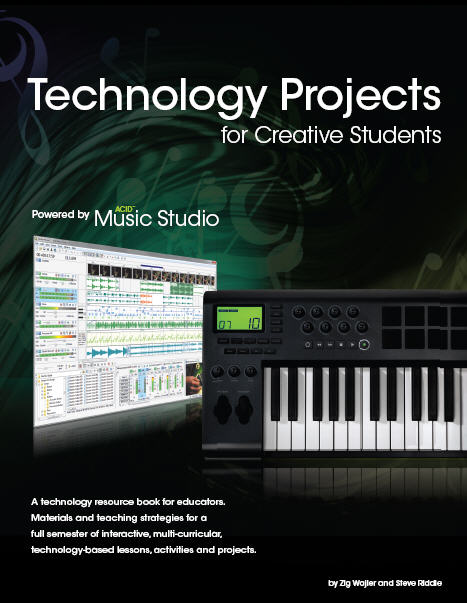 Content and Benefits
| | |
| --- | --- |
| | 25 Cross-curricular lessons for student driven projects |
| | Visual examples with captions that 'show' students/teachers what to do |
| | Software basics with an easy to understand 'how to' approach |
| | Do-able engaging activities with real world applications |
| | Easy-to-read language for all teaching styles |
| | Classroom or individual projects |
| | Reproducible student project examples |
| | Enhance student achievement by interconnecting core subjects with music and technology |
| | Promote critical thinking, communication, productivity, and cooperative learning |
| | Provide a venue for students to share ideas, learned information, and finished projects |
| | Achieve successful student retention with fun, exciting, and positive learning experiences |

Mixcraft™ for the Classroom 2nd Edition by Steve Riddle and Zig Wajler
Overview:
Mixcraft™ for the Classroom 2nd ed. by practicing educators Steve Riddle and Zig Wajler is a teacher resource book based on the input and feedback from
educators, students, and teachers of how to best serve the needs of their respective classrooms by promoting learning through technology. The book includes step-by-step software basics, innovative interactive lesson plans designed as do-able engaging stand-alone activities, visual examples of student projects and visual software screen-shot examples, and review mini-lessons. The content includes contemporary 21st Century Learning strategies with cross-curricular connections based on real world applications as extensions of the classroom. Students expand their thinking, learning, creativity and communication by applying various strategies to produce projects such as; original cell phone ring tones, public service announcements, virtual art galleries, archived historical studies theme, plays, poetry, commercial jingles/podcasts, scripts, music play-alongs, printed notation, archived writing, and more.
Total of 205 pages.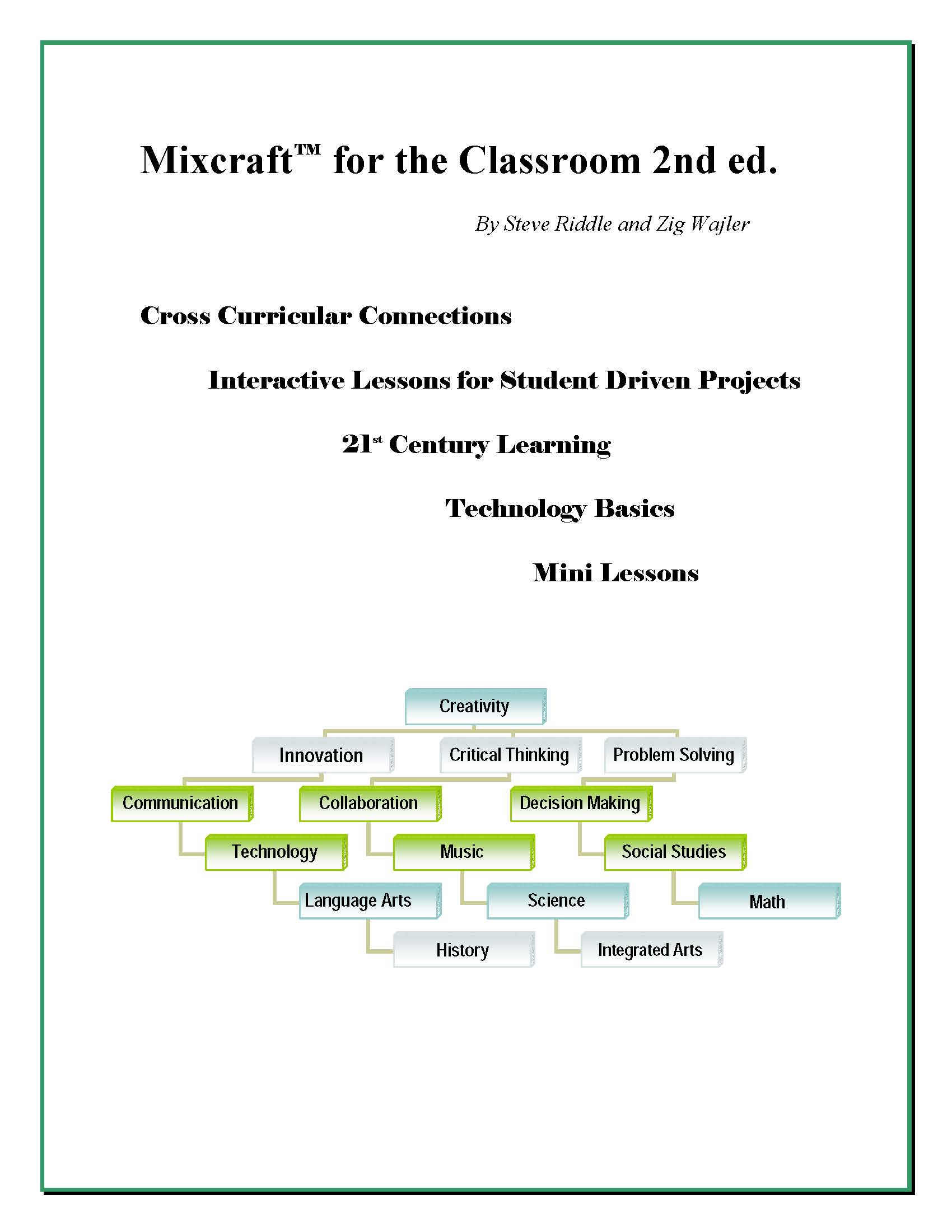 Sample listing of content includes:
Software Basics

Using Virtual Instruments

Preparation, Planning and Organization Lessons

Composition Lessons (and Tools)

Interdisciplinary Lessons

Suggestions for using Finished Projects
To listen to projects created by students using the lessons click here: Listening Examples
Reviews:
"This book is AWESOME!" Mark Lortz, Westminster High School Band and Orchestra Director
"Thanks for your hard work in creating a resource that helps move education in the right direction – student empowered, interest based, relevant, and integrated across the curriculum." M. Noble, Children's Technology Workshop
"The students, of course, loved their jingles. They were really good, my favorite is still Joker Joe's! The students went on to evaluate the jingles from their own class and one other class (of their choice) and were able to recall and apply the information. That's what this teaching thing is all about!" Brandi S. Sweetwater Jr. H.S.

Customer Reviews From Amazon.com
| | |
| --- | --- |
| | Reviewer: A reader from Corbin, KY USA |
This book is a must for Related Arts Teachers in Kentucky. Zig combines the music and culture in a way that students are spellbound. The rhythm tracks on the CD have fabulous sound. The book covers two of the core content cultures we must study in KY, Native American and West African. Zig has made teaching fun for both students and teachers.
| | |
| --- | --- |
| | Reviewer: brenda bachrack from lake charles, la USA |
having watched zig interact successfully with kids, i was pleased to be able to see his new book
as a former teacher i was able to appreciate the detailed lesson plans and suggestions for involving all aspects of curriculum
i could even follow them myself, and i am by no means a percussionist
the band and chorus directors with whom i have shared this book have been excited by it and look forward to seeing zig in person
it is great fun for the classroom,lending itself to further research into various customs and cultures and helpful for all levels of music instructors
keep on !
| | |
| --- | --- |
| | Reviewer: Willy Tomasz from PA - USA |
My students (K-5) love Mr. Wajler's play-along tracks. The warm- up Call & Response rhythms are a wonderful review of various note values that we have been working on in the classroom.
I would have to say that my student's favorite song to play-along with is a toss up between 'Far East Medley' and 'America Rocks'.
As a surprise for our students we brought Mr. Wajler's, Hands On with Zig performance to our school.
After seeing the instruments and hearing the music included in his book in person
my students want a return visit.
Even more so, they are now making reference from the live performance to lessons from the classroom.
Thanks ZIG!

Hands on with Zig CD 2006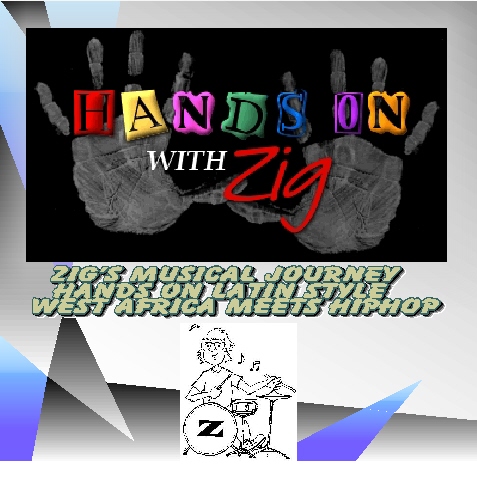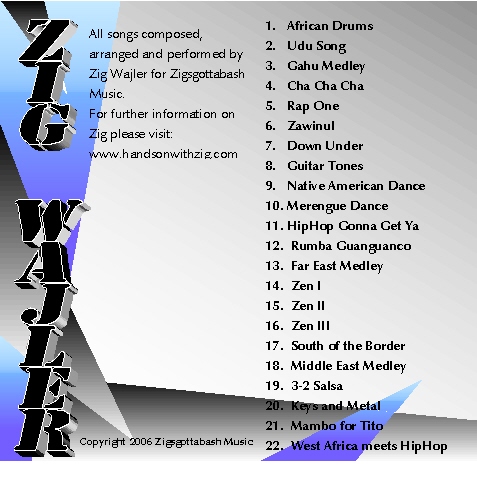 The CD features 22 original music compositions that are featured in three of Zig's most popular programs.

'Zig's Musical Journey', 'West Africa meets HipHop', and 'Hands On Latin Style'. $15.00

Song list:

African Drums, Udu Song, Gahu Medley, Cha-Cha-Cha, Rap One, Zawinul, Down Under, Guitar Tones, Native American Dance, Merengue Dance, West Africa meets HipHop, HipHop Gonna Get Ya, Rumba Guanguanco, Far East Medley, Zen I, Zen II, Zen III, South of the Border, Middle East Medley, 3-2 Salsa, Keys & Metal, Mambo for Tito.



All material contained within this website are protected by copyright.
© 2015 Zigsgottabash Music